Boca Juniors return very difficult - Carlos Tevez
Posted By

content

On Saturday, 23 September 2017
Argentina international Carlos Tevez has admitted the possibility of returning to Boca Juniors is 'very difficult' ahead of his return to Shanghai Shenhua for the next round of fixtures.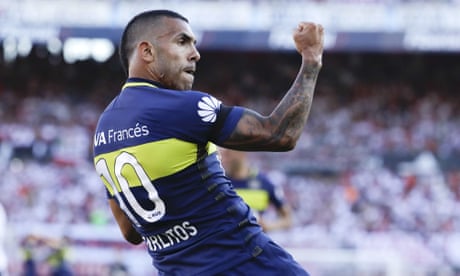 The 33-year-old ended his second stint with Boca in December 2016 after he was offered a two-year contract with the Chinese Super League club.
Tevez had spent the past fortnight with his hometown club in Argentina after he gave in a written agreement to Shenhua that he would return to the club at the end of the month. The Argentine was given permission to recover from his minor calf injury, and he took time to visit La Bombonera over the weekend where he watched Boca beat Olimpo in the Superliga opener.
Following the game, Tevez admitted that he is unlikely to return to Boca in the near future as his contract with Shenhua is 'very complex', he said: "I'm going tomorrow [Monday] back to China. My head is on returning to China, getting better physically in order to play the remaining games and prove to the people there that put their trust in me that I can deliver. That is my aim right now. My contract is very complex and it's very difficult for me to return. The Chinese are not stupid."

Persistent injury concerns have restricted Tevez to just two goals and four assists in his 11 league starts, and he will have to persist with the Chinese outfit until December at least where can activate a release clause in his contract.
During Sunday's game, a section of the Boca fans had openly welcomed Tevez with a friendly banner which read 'Carlitos, we will wait for you. Player No. 12' and this brought a sense of happiness for the former Manchester United star, who had been at the ground for the first time as a fan.